In today's yards, vinyl fences are one of the most popular fence choices! There are several great reasons why you should choose a vinyl fence. For example, PVC fences are very durable and virtually maintenance free. Willing to learn how to install your vinyl fence?  If so, this DIY approach can further reduce the cost of adding a new fence to your property.                           
Whether you are adding a vinyl picket fence or a vinyl privacy fence, we are here to help you! First, we'll share some questions for you to consider about your home and choosing the best fence for your needs. Then, we'll review the necessary materials and tools. Finally, we'll present a step-by-step written guide with accompanying visuals to help you through your installation.
As you plan to put up a vinyl fence, make sure you can answer the following questions:
Does that style of fence best match the aesthetic of your home/building and landscape?    
Since installing a vinyl fence, including the setting of vinyl fence posts, is a two-person job, who will help you with your vinyl fence installation?
Where are your property lines? You'll need this information to locate your vinyl fence posts appropriately.    
To install your vinyl or PVC fence, you will need the following tools and materials:
Digging Bar
Hammer
Shovel
Post Hole Digger
Tape Measure
String Line and Drive Stakes
Wheelbarrow
Concrete
Level
Step 1 – Measurements: How to Install a Vinyl Fence

First, set your drive stakes past the furthest ends of your fence lines and stretch the string between them. This first step to putting up a vinyl fence helps ensure that your vinyl fence posts are in a straight line. Then, determine the location for your first vinyl fence post. Whether you choose a picket fence or a privacy fence, the distance between posts is usually either 6' or 8'. Mark on the ground where each post will be placed.
Step 2 – Post Holes and Concrete: How to Set Your Vinyl Fence Posts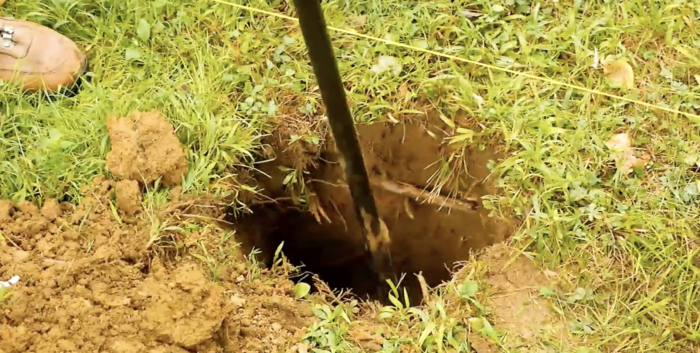 After measuring and marking the holes for your vinyl fence posts, dig a hole approximately 2.5' to 3' deep for each post. We recommend digging the hole in a bell shape, where the bottom of the hole is wider than the top. This approach to setting the vinyl fence post will allow the concrete to better resist frost heave. Place the first post in the first hole, backfill the hole with concrete, and use the level to set the post plumb (straight up and down) and to the string line.           
Step 3 – Bottom Rail: How to Put Up a Vinyl Fence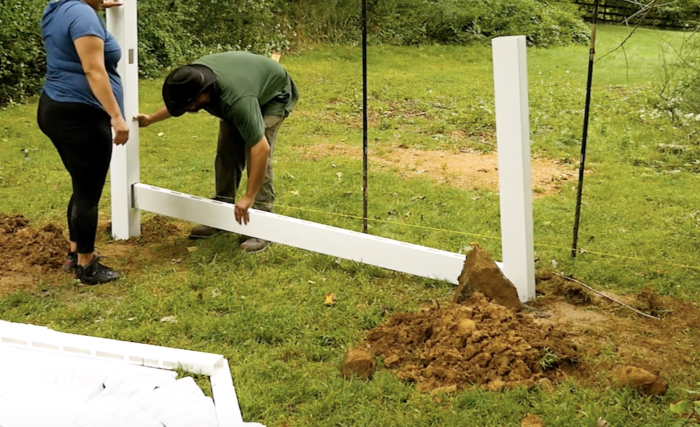 Place the second post in its hole, and insert the bottom rail between the posts. Add concrete to the second hole, and then set the post plumb using a level. Make sure your post is close to but not touching your string line. Leave enough space above the concrete to go back and cover the footing with dirt.
Step 4 – Top Rail: How to Put Up a Vinyl Fence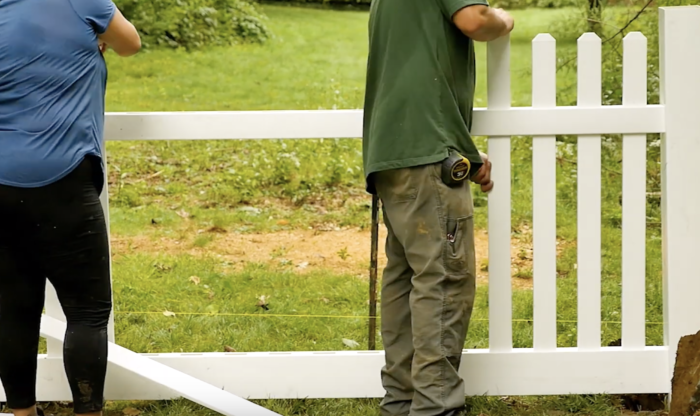 Install the top rail, and begin inserting the fence pickets. Make sure to level the posts to one another and to grade visually for a clean professional look. Be sure to Install the top rail, and begin inserting the fence pickets. Make sure to level the posts to one another and to grade visually for a clean professional look. To ensure that the line of your vinyl privacy fence or vinyl picket fence is consistent, be sure to take a step back occasionally to view the fence from afar.
Step 5 – Capping and Completion: How to Put Up a Vinyl Fence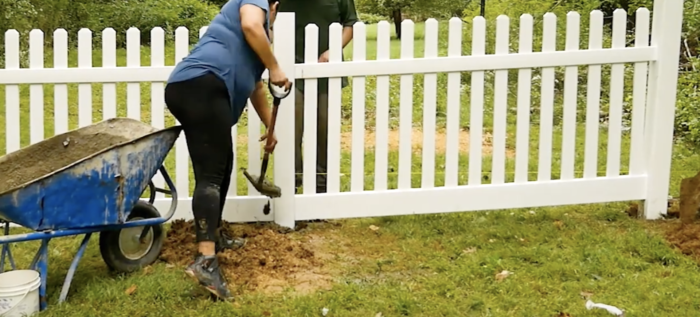 Cover the rest of the footing with dirt; then, add the caps to the top of the fence posts.  Congratulations!  The installation of your new vinyl fence is complete!
Click here to watch a step by step video of this whole process!
Click here to download the PDF
If you are feeling overwhelmed about trying to put in a fence on your own, don't worry!  Instead, contact Orange Fence! We're happy to help you resolve any problems and guide you to the next step in your installation. If you're still unsure about how to install your vinyl fence, then we can install it for you! 

Click here to get a free estimate.