DIY Fencing Products Available from Orange Fence & Supply in Connecticut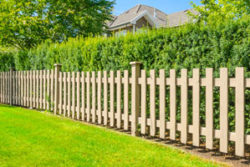 We can help you with everything you need for your DIY fencing project, including materials, parts, and advice
If you're the type who likes to get out and work on their home on the weekends, Orange Fence & Supply is here to help you out. We sell a wide variety of quality fencing products for DIY-ers, and we can help you choose the right materials and hardware for your needs.
We also supply all types of fencing materials to contractors and builders. Don't waste your time trying to find the right materials from a box store. Orange Fence & Supply are fencing professionals who know exactly what you need to get your job done on time and to professional standards.
Give us a call at 1-203-795-1321 or stop by our store in Orange to meet with a fencing expert and get the best products for your next project! West Haven, Milford, Stratford, Stamford, New Haven, Fairfield and areas nearby.