Stockade Fences Provide Privacy and Security near New Haven, Fairfield and nearby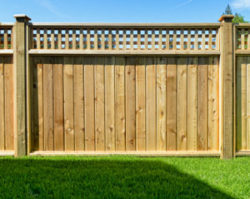 Combining privacy & beauty: Stockade fences provide exceptional security with the aesthetics of a traditional design.
Orange Fence & Supply installs stockade fences throughout New Haven, Stamford, Fairfield and the surrounding areas. A stockade fence can serve multiple purposes for your home, adding both aesthetic value and privacy. Our stockade fences are available in a variety of materials, and our experts will work with you to choose perfect fence to match your home and fit your needs.
Stockade fences are one of the oldest types of fencing, dating back to Roman times when military officials wanted to ensure security around their fortifications. The use of stockade fences continued to grow throughout the ages and became immensely popular in the colonial United States, once again as an aid in defense. Although they no longer serve this purpose in modern times, stockade fences make for a great option for homeowners who are looking for increased privacy and security for their yards.
If you're looking for the privacy and beauty of a stockade fence, call Orange Fence & Supply for a free estimate today!