Fence Repair Experts in New Haven, Norwalk & Throughout CT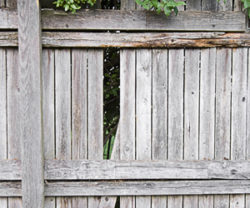 Fence repair: Without regular maintenance, damaged fence panels & posts not only look bad, they can weaken your entire fence
We can repair your damaged fence and keep it looking like new. Whether you need a simple fix or major repairs, Orange Fence & Supply repairs all types of fencing. We provide lasting fence repairs, restoring the full function, security and beauty of your fence. We can handle any level of damage and any fence material to ensure that all your needs are met.
To request an on-site inspection and get a free quote for damaged fence repair, call us at 1-203-795-1321 today!
We proudly provide fencing repair throughout Connecticut, including New Haven, Stamford, Fairfield and surrounding areas.