Expert Sliding Gate & Swinging Gate Installation in Stamford & Throughout Southern Connecticut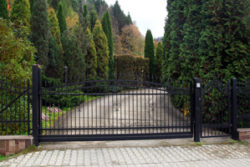 Security & convenience: With an automatic driveway gate, you can open & close your gate without getting out of your car
Get privacy & security with an expertly-installed custom gate. There is something regal about gated driveways, calling to mind beautiful homes and fences that stand the test of time. While a sliding or swinging gate makes for a wonderful aesthetic addition to your home, the increased privacy and security cannot be understated.
Orange Fence & Supply offers a wide range of sliding and swinging gate designs, from beautiful wrought-iron and wood gates to steel cantilever gates. We can install a custom gate to match your existing fence. A swinging or sliding gate can create a grand entrance at the end of your driveway while adding privacy and security.
Call us at 1-203-795-1321 to schedule a free on-site consultation to determine the best solution for your home! We offer free estimates for the installation of sliding gates and swinging gates in Fairfield, Stamford, New Haven.