Commercial & Industrial Fencing in CT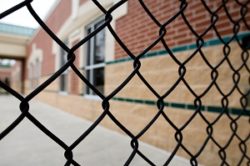 Durability & efficiency. We'll work with you to design and install commercial fencing that provides the best long-term value for your property.
Orange Fence & Supply offers fencing services for commercial properties in Connecticut. We install commercial fences that will provide added protection and security for your building.
Our commercial and industrial fencing services are reliable, cost efficient and we can ensure they are built to provide lasting functionality. We service municipal and industrial buildings throughout Stamford, New Haven and nearby. Contact us for a free on-site estimate.