If you're looking to install an attractive, low maintenance fence, you should strongly consider vinyl fencing (also known as PVC fencing). While it may cost a bit more at the onset than other types, such as wooden fencing, vinyl comes in a wider range of styles, and it's made to withstand the elements far better than other types of fences. There are clear reasons to choose vinyl fencing for your fence solutions.
Types of Vinyl Fences
There are so many vinyl fencing styles to choose from when you're buying a fence. Whether you're a homeowner or a business owner, you want to install an attractive fence that compliments your property. You probably also want security and privacy, or perhaps you want visibility and a greater curb appeal. Explore the following PVC fence styles and choose one that is right for your outdoor space!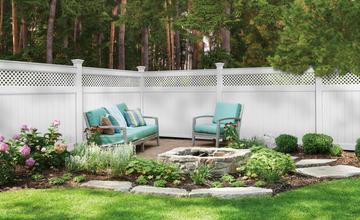 There are three different styles of vinyl fencing to choose from: picket, screen, and post-and-rail. Picket fences are decorative and great for security, screen fences are best for privacy, and post-and-rail fences are most common for large areas such as farms and ranches. Decide which style is best for your property. From there, you can select style variations and customizations to choose the perfect vinyl fence!
1. Picket Style Vinyl Fencing
Picket fences encapsulate the imagery of the traditional American cottage-style home. With their evenly spaced panels or pickets, this fence style is one of the most economical choices, is easy to install, and highly customizable. The variation of styles within the category is also broad as you can choose the height, distance between the pickets and even the shape of each picket and style of the posts. Traditionally, pickets come to a tapered point at the top and at heights of 3-4 feet they are functional for keeping small animals in and strangers off the lawn. (ActiveYards also recommends a maximum picket gap of 4" if you have children or small pets on your property.) Consider your landscape design, home style and needs to determine if a picket fence is the right style for your property.

Types of Picket Style Vinyl Fencing by ActiveYards:
Cottonwood
Greenbrier
Hawthorne
Barberry
Buckeye
Mulberry
Tupelo
Silverbell Scallop
Chestnut Scallop
Chestnut Stepped
Chestnut Staggered
Primrose Scallop
Primrose Arched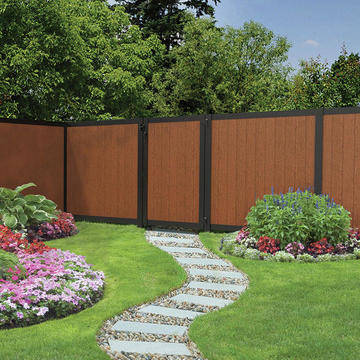 2. Screen Style Vinyl Fencing
If seclusion and privacy are what you're after, you can turn your yard into an outdoor sanctuary with screen style vinyl fencing. A screen style fence, also known as a privacy fence, acts essentially like a wall for your outdoor spaces. There are no gaps between rails so you are provided with maximum privacy and even a sound barrier. With the proprietary Glidelock technology by ActiveYards, the screens snap firmly into place, eliminating gaps to create a solid wall between you and the outside.

Types of Screen Style Vinyl Fencing by ActiveYards:
Dogwood
Arrowwood
Moonstone
Juniper
Persimmon
Aspen
There is another type of screen style "privacy fence" that uses vinyl panels on an aluminum frame. This hybrid style fencing is called Sequoia. For someone who likes the look of wood but would prefer to not deal with erosion and pests, a woodgrain designed vinyl fence like the ActiveYards Cambium line would be a perfect option.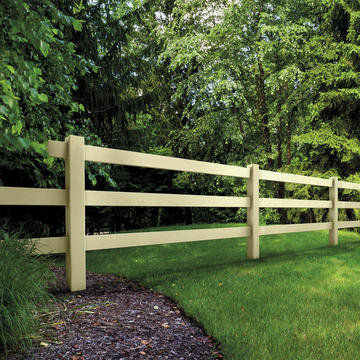 3. Post-and-Rail Vinyl Fencing
If your property covers a larger area and you want to fence your property line without blocking the view,
If your property covers a larger area and you want to fence your property line without blocking the view, the post and rail style may be right for you. Also called split rail, this style is simple while clearly marking the boundaries, especially of larger land areas. Post and rail fences are famously used in wide open spaces and large areas where a perimeter is needed.
The most common post and rail fences will have either 2, 3 or 4 rails spaced out between each post. Because of their natural look, post and rail fences will look great in any residential setting and many HOAs prefer them. If you love the open visibility but you have pets you need to keep fenced in, you can add wire mesh to the inside of the fence to prevent losing your furry friends.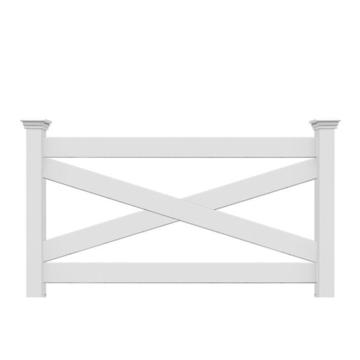 Types of Post-and-Rail Vinyl Fencing by ActiveYards:
2-Rail
3-Rail
4-Rail
Crossbuck
Vinyl Fence Styles and Colors
Did you decide on a picket style, screen, or post-and-rail vinyl fence? Now you can get specific about choosing colors, heights, gates, and accessories. Customize your fence to really match your style and compliment your property!
Customize colors
Vinyl fencing offers customization options for homeowners and business owners. Choose from a wide range of colors for both the fence and post caps. Colors are protected by ActiveYards' proprietary Solarguard technology.
Customize Height
You'll also be able to choose the height for your vinyl fence. You may want a 3-foot decorative fence in your front yard and a 6-foot privacy screen in your backyard. Or choose a design where the height varies at different points. The tops of the fences can be built to swoop down in the middle or vary in height from one post to the next.
Customize Post Caps and Finials
Regardless of which type of fence you buy, there are quite a few different kinds of post cap options.
Customize Gates and Fence Layout
Single walk gates are hinged on one side with a latch on the other and are best for walkways for bikes, pets, and people. Single walk gates are common for pool fences and should be self-latching, self-closing and hinged to swing outward to make it harder for a child to enter while latched.
Double drive gates are usually higher and are made of two hinged panels that open in the middle and allow for cars and other vehicles to come through. Some have additional security features such as card readers and keypad entry for access.
PVC Fence Styles Stay "Looking New" Long After Installation
Of all the different kinds of fencing materials, vinyl is the easiest to clean and it lasts for a lifetime. Of course, not all vinyl fencing is created equally, but industry leaders like ActiveYards use proprietary fencing ingenuities that make their vinyl fences the strongest and most versatile on the market. Their innovative design forgoes the need for metal screws and hardware. With quality vinyl, the long-life expectancy means you will never need to replace it or even make repairs. No painting needed! With all the types of pvc fence options, vinyl is manufactured in a lot of different colors, and it is formulated not to stain, fade, or lose its look. Finally, PVC fences are easy to install yourself if you choose! It's a wise investment for your home or commercial property!
Visit Our Showroom to See Our Stylish Line of Vinyl Fences & Vinyl Fence Supplies
Do you live in the New Haven CT or Fairfield CT area? Stop by the nearby Orange Fence showroom to see many vinyl fencing styles for your home or business. We offer quality vinyl fence supplies, perfect for any outdoor landscape. Our attentive staff will give you the information you need and help you to shop, select, and install a new vinyl fence that will beautify your property!
Get directions and contact our nearby location to plan your visit today!