Are you building a fence to provide privacy around your backyard? Or do you need to secure your pool but still have a clear view from your porch? Whether you want more privacy or need to maintain visibility, a vinyl fence will serve your purpose. As a Connecticut resident, you may be weighing vinyl fence pros and cons. Here are some great reasons to choose vinyl fencing for your yard!
Vinyl Fences are Strong and Durable
There is no question that a fence is a big investment and a very important decision; a well-made fence can last a lifetime. It's important to choose the right fence for your property. You need a fence that meets your functional needs and looks beautiful in your outdoor space. Vinyl fencing is strong and durable–even stronger than wooden fences or other types of fencing materials. In fact, vinyl fences are five times stronger than wood fences and much less likely to collapse. When it comes to strength and durability, vinyl fencing is in the same category as aluminum and steel.
Vinyl Fencing Provides Privacy
Not only are vinyl fences attractive, but they also keep your yard and family activities private. You might not like the idea of neighbors and commuters having the ability to see into your yard. If you want to block people from watching your family, a tall, closed-gap fence is the right choice. The amount of privacy offered by a vinyl fence is entirely up to the homeowners.
Vinyl Fences are Safe in Bad Weather
When shopping for fences that will protect your property, and weighing the pros and cons of vinyl fencing, it is important to consider weather conditions in your location. Areas prone to fierce winds and harsh weather are a good match for resilient vinyl fences. Strong precipitation and long winters are conditions that could make fence maintenance taxing. Because of the strength and the waterproof nature of vinyl fences, they are ideal for withstanding coastal based wind and salt water. Whether you live on or off the coast, the durability of vinyl fences is one of the most sought-after features for fence buyers.
Vinyl Fences are Low Maintenance
Vinyl fencing is extremely easy to clean. Your new vinyl fence will practically take care of itself! There is no need for a power washer or tough ingredients to keep a vinyl fence looking brand new. Occasional rain is usually enough to rinse off any dirt or debris. If there's a buildup, you can remove it by spraying your fence off with a garden hose. Plain water will typically remove whatever dirt and grime may appear on the fence. For the tougher spots, a towel with warm water and dish soap will do the trick.
Vinyl Fences Do Not Deteriorate
You can avoid rust, erosion, oxidation, termites, paint chips, and splinters by opting for modern vinyl fencing solutions. Vinyl fences are also ideal for environments with high moisture and taxing winters because they won't blister or peel. Wood fences are susceptible to termites and water damage, but vinyl fences are built to last. Furthermore, unlike wood fences that need to be painted and stained several times over the course of their lifespan, vinyl fences will never fade or chip. Vinyl fences maintain the same color throughout the depth of the fence so refinishing or painting is unnecessary. Vinyl will look brand new for many years after it has been installed.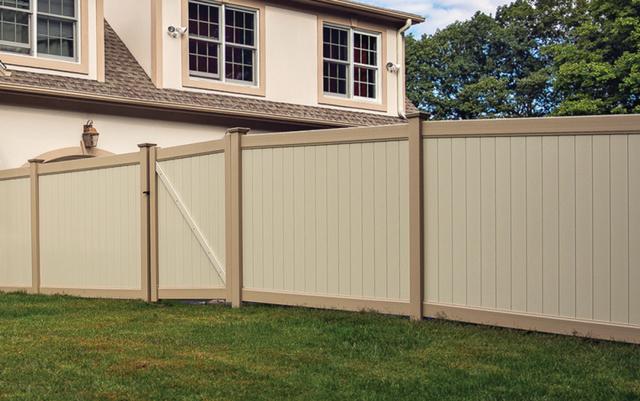 Vinyl Fencing is Fire Resistant
Vinyl fences are fire-resistant. They do not easily ignite and are considered to be self-extinguishing. In testing that was conducted by ASTM, vinyl samples were tested for flammability. ASTM found that polyvinyl chloride (PVC) does not burn easily and if lit, the flame quickly goes out. Vinyl fencing is safer than a wooden fence and offers peace of mind to the head of the household.
Vinyl Fencing is Safe for Children and Pets
Vinyl fencing is nontoxic and is manufactured without using harmful chemicals. This is one of the reasons why vinyl residential fences are ideal, especially when you have kids and pets playing outside. Chemically treated fences are not a good fit for a family yard because kids and dogs will eventually make contact with the fence. Beyond that, a chemically treated fence is likely to release toxins when baking in the hot sun. You can avoid these concerns by installing vinyl fencing instead of wood or other fences.
Top of the line vinyl fences are specifically engineered to stand strong without needing screws, rails, or nails. Wood and certain types of metal fences eventually deteriorate and can expose your family to rusty nails and sharp metal pieces. This is how injuries happen. Rusty metal carries the risk of your child or pet contracting tetanus, a dangerous and potentially fatal infection. Vinyl maintains its stability and structure without the risk of protruding nails or other harmful materials.
Building a fence around your home provides obvious security benefits for your family. The most common reason is to keep kids and pets safely in your yard while keeping uninvited guests out. Beyond security, though, vinyl is a safer option than other types of fences because it's not easy to get injured on this smooth fencing material.
Vinyl Fences are Affordable
Vinyl fencing is usually less expensive than metal fencing materials, but it does cost more than wooden fencing and low-grade types of plastic. However, when you look at the big picture vinyl fences are the most cost-efficient option.
Vinyl fencing is so low maintenance that you won't be spending money on cleaning products, paints, stains, or new hardware. Vinyl fencing is so durable that you won't be paying for fence repairs or replacement parts. The long-term cost of vinyl fences is significantly lower than the maintenance of any other fencing material.
Vinyl Fence Installation is Easy
During peak seasons, the waiting time for fence installation services can be up to six weeks. However, vinyl fences are one of the simplest types to install. If you choose to have your fence professionally installed by a company, the turnaround time should be faster because it's a relatively quick and easy process to build a vinyl fence.
Another option to consider is self-installation. Vinyl fences are designed to be easily installed by the homeowner or business owner with the help of the expert guidance provided by the fence distributor. Self-installing a vinyl fence is as simple as setting up the posts followed by sliding on the pre-made panel. If the decision is made to remove the vinyl fences, disassembly is just as easy. Ask us for more information about DIY fencing options and we'll tell you about EZFence2Go.
Vinyl Fences Last a Lifetime
One of the primary benefits of vinyl fencing is that with very little maintenance or effort, vinyl fences can last upwards of 30 solid years before needing to be replaced. Generally, families live in the same home for 15-30 years. Vinyl fences will stand the test of time and serve a family well for many years so their time and energy can be spent on other, more important things.

Our vinyl fences also come with a lifetime warranty. Of course, warranties vary between different companies so explore your options.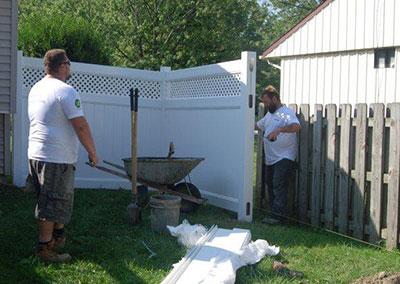 Visit Our Showroom to See Our Stylish Line of Vinyl Fences
Do you live in the New Haven CT or Fairfield CT area? Stop by the nearby Orange Fence showroom to see many styles of residential fencing. Our attentive staff will give you the information you need and help you to shop, select, and install a new vinyl fence that will keep your family safer at home!
Get directions and contact our nearby location to plan your visit today!