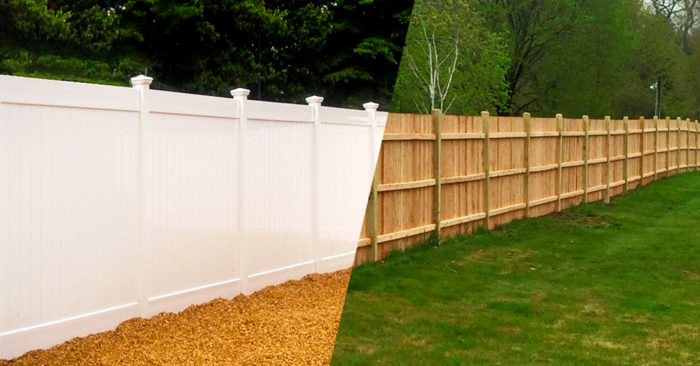 You've made the decision to add a fence to your yard – to offer privacy, add curb appeal, or perhaps keep pets on your property. The next step is deciding on which type of fence is best for your home. There are various types of fences, each of which offer different benefits and styles. Two popular types of fences that you could choose are wood and vinyl. Both come in a variety of colors and styles, and each material has its own benefits. You'll want to make a selection that you will be happy with for years to come. Therefore, comparing wood vs vinyl fencing can help you decide which type of fence will be the best selection for you home.
---
Wood vs Vinyl Fence Costs
When weighing the pros and cons of different fencing options, you'll likely compare the costs of each. So, is vinyl fencing cheaper than wood fencing? The answer to this depends on if you are looking at it in terms of initial versus long term costs. Wood fencing is typically less expensive upfront, but may require cleaning, treatment and staining, which requires time and money.
On the other hand, a vinyl fence typically costs more money upfront during initial installation. However, vinyl is more durable than wood, leaving it less vulnerable to damage. Because of this, you likely won't need as many repairs and maintenance, saving you money in the long run.
Wood vs Vinyl Fence Style
The type of fencing you choose plays a crucial role in the look of your yard and home. When comparing different types of fences, you should consider what style best suits your home. A wood fence is a traditional choice, that lends an organic, natural look and feel to your home. Whether you let the natural grain of the wood show, or paint your fence the color of your choosing, there are many options that allow you to customize a design that you prefer.
There are many styles of wood to choose from, in a wide selection of patterns and types. Additionally, wood fences can be refinished and stained, allowing you to change the look of your fence as your style and preferences shift over time.
Vinyl fencing became a popular choice for yard enclosures in the 1980s, though early styles looked cheap, and not nearly as attractive as the ones available today. Today, vinyl panels come in even more styles than wood fencing, making it a versatile fencing choice. While vinyl panels do come in a selection of popular styles, there typically isn't a wide range of colors to choose from like wood fencing. In addition, vinyl fencing can't be easily refinished like wood, so your vinyl fence choice is a more long-term decision.
Wood vs Vinyl Fence Maintenance
When comparing wood vs vinyl fencing, it is important to consider the level of maintenance that is required for each. With this, you can decide which type of fence is best for you, based on the level of attention and time you want to spend on your fence. Depending on the species and finish of the wood, your wood fence may need to be cleaned, treated, sealed, and stained over time. This all requires both time and money. As mentioned, wood fencing is also more vulnerable to damage from the elements, requiring a greater degree of maintenance and upkeep to keep your fence looking good. However, repairs are easy when working with wood, and individual panels or pieces can be replaced if needed.
One benefit to a vinyl fence is that is extremely durable and easy to maintain. Due to the nature of vinyl, it is more durable than wood, allowing for less maintenance. Your vinyl fence will look great for years to come, even with minimal care and upkeep. However, vinyl fencing is more difficult to repair should part of your fence become damaged. Small holes or cracks can be repaired with a DIY repair kit, but major damage might require calling a professional.
Another great option, similar to vinyl, is a PVC fence. When comparing a wood vs PVC fence, PVC fences offer greater durability. Like vinyl, a PVC fence is a great choice that will look pristine for years to come. Both vinyl and PVC fences are easy to clean and maintain, which can save you time and money.
Choosing the Right Fence for Your Home
By comparing wood vs vinyl fencing, you can decide which type of fence is best for your home. Whatever your budget or taste, we have a wide range of choices in both vinyl and wood fence panels and can help you choose what works best for you. Whether you install your fence yourself or we handle the installation for you, we're here to answer any questions you may have about the products we carry and the process itself. We are also available for repairs should the need arise. Whatever type of fence you choose, your vinyl or wood fence is sure to add beauty and function to your home and yard.