In addition to any existing fencing that serves to secure your home or provide a decorative boundary on your property, gardens that include seasonal vegetables, herbs, flowers, and more may also benefit from this protective feature. As you consider the best garden fences for a beautiful and protected garden, it is important to think about the well-being of those who enjoy your yard and your landscape or design preferences, as well as what is in your garden and what those plants may attract.
The three most frequently used fencing materials for gardens include wood, vinyl, and metal. Often, the best garden fences employ a combination of multiple materials in order to best serve the composition of your garden beds, to provide what is needed to protect and maintain them, and to complement your own design preferences. Below, you'll find recommendations about how to choose the type of garden fence that may work best for you and additional ideas about how to further beautify the best garden fences that also protect your garden.
Types of Garden Fences
Finding the best garden fence requires you to consider the level of protection you need relative to what is in your garden and the aesthetic that suits your property.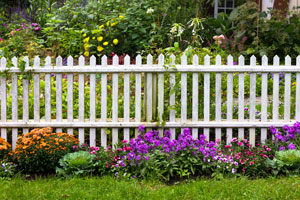 Vinyl Garden Fences
Vinyl fences work well to protect and frame your garden based on your landscape. For example, this vinyl fence nicely frames the small tree and bushes dotting this landscape and aligns with the simple, yet elegant yard design. If the greenery is not something that attracts critters or that they will eat, then this fencing design may offer enough of an animal deterrent for your needs, and vinyl is also often a more low maintenance option that other fencing can be. Although it may keep the neighbor's dog out of this yard and other wildlife that might be roaming around the area, this design may not offer protection from smaller animals or pets in your own yard nor would it safeguard the existing plants. So, if there were carrots or tomatoes instead of trees and shrubs, pets and wildlife would have easy access to those items, so additional vinyl, wood, or metal fencing would be needed around a garden with those items.
Metal Garden Gates & Fences
In looking for the best garden fences to enclose dedicated flower or vegetable gardens and dog-proof them from your own furry housemates as needed, the best garden fence may be constructed of any types of fencing, such as metal fencing, and also in conjunction with other materials, like wire mesh, to help you avoid critters who may want to eat your delicate flower blossoms and early foliage on growing vegetables.
Wooden Garden Gates & Fences
Options like wood fences with wooden garden gates can also be used to clearly delineate or enclose your garden and can be designed to provide protection from family pets and even wildlife like deer. As many gardeners are aware, chicken wire or bird netting is often essential in protecting vegetables, berries, and blossoms, but it is not the most visually appealing option. It can be used in conjunction with other thoughtfully-chosen fencing or hidden, and simply choosing to have the fence boards or pickets be as close together as possible is another option.
What to Consider to Find the Best Garden Fence for Your Home
As you narrow your options, be sure to consider durability, maintenance needs, and your budget in addition to your needs and preferences. Once you determine which type of garden fence you prefer, there are multiple design options and layouts from which to choose. For example, metal fencing can offer substantial protection, while also being accompanied by decorative design features. Like the classic picket fencing in wood or vinyl, fencing can be used alone to provide a barrier and help highlight the stunning elements in your garden or in combination with necessary elements like netting. The combination approach lets you enjoy the design aspect and also hide any additionally protective features that you may need.
When it comes to keeping animals out of your garden, the best garden fence may hide its content from hungry intruders to help reduce interest or consciously include deterrents from ground digging pests to those tall enough to reach over some shorter fencing options, like deer. For the best garden fences or any other fencing installations on the property, zoning compliance or additional permits may be needed. Accordingly, contracting a fencing company, like Orange Fence and Supply, for your fence installation will ensure that you have a fence to beautify your property, protect the garden, and adhere to designated regulations.
Additional Beautification Options for Designing the Best Garden Fence For Your Home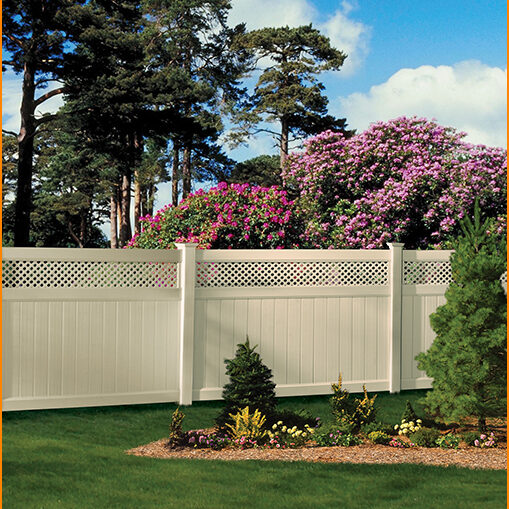 After assessing your garden needs and exploring the types of fencing available that serve both personal preferences and garden necessities, working with fencing professionals often also provides you with the opportunity to customize garden fences to your specifications. However, you can also wield your own planting prowess to further enhance the appearance of your fencing.
Style your fence with naturally stunning decor like climbing flowers, which can grow up, through, and around your fencing, thus softening the more rigid aspects of its design and more seamlessly blend the garden fence with the rest of the plant growth.
You can also paint or stain both wooden and metal fences in order to further complement your overall space. For example, white painting may provide a more classic look while a pop of bright color may draw even more attention to your spectacular flowerscape.
Decorative panels are another way to customize your fencing and can be constructed from any type of garden fence. Wood, vinyl, and metal fences can be accompanied by panels in various shapes and designs to create a unique and original look.
Lighting features and additional garden sculptures, baskets, and more can also be used to further create the garden fence you imagined.
For help designing the best garden fence for a beautiful and protected garden at your home, contacting the fencing professionals like those at Orange Fence can help you achieve your fencing vision.