When choosing a fence for your yard, you likely want to ensure that it checks all your boxes. Common criteria might include measures of durability and style. In addition, many people, now more than ever, want to ensure that their fencing material is eco-friendly. There are several different types of fences to choose from, two popular choices being aluminum and wood.
While aluminum and wood fences both have their pros and cons, aluminum fences prevail for a variety of reasons. From being an eco-friendly choice, to affordability and style, they are an overall great option for your yard.
Aluminum vs Wood Fence Cost
When deciding on a new fence, you are likely weighing the costs of different options. When comparing aluminum versus wood fence costs, aluminum is the more affordable choice for you in the long run. You can buy aluminum fencing for around $30 per foot, depending on the grade of aluminum, color, and style. Depending on the type of wood chosen, a wood fence may cost less during its initial installation, but may require cleaning, treatment and staining, which requires time and money.
On the other hand, aluminum fences are more durable and typically cost less over the lifetime of the fence. Your aluminum fence will look pristine for years to come, making it a great long-term decision for your yard and wallet.
In addition, self-installation is much easier for aluminum fences, another benefit when it comes to cost. Self-installation eliminates the cost of professional installation, which can add up when installing a new fence. If you don't mind getting your hands dirty, ActiveYards has a DIY solution for easy-to-install aluminum fences that will save you money. They make self-installation easier with their EZFence2Go system. Choosing this route will make an aluminum fence the clear winner when it comes to affordability.
Aluminum is an Eco-Friendly Fence Material
When comparing aluminum versus wood fences, aluminum prevails as the eco-friendlier choice. Wood fences tend to need more maintenance as sun, moisture, and other elements break down the material over time. Because of these expedited maintenance needs, wood fences end up using more materials, making it the lesser eco-friendly choice.
On the other hand, aluminum fences offer an option that's better for the environment. Given their durability, there should never be a time when you need to replace your aluminum fence. Because of this, aluminum fences use less materials over time, which is better for the environment. Despite their longevity, there might come a time to dispose of an aluminum fence. When that time comes, you can simply break down the fence and take the posts to a local scrap metal recycling center. Aluminum is highly recyclable, making it a great choice for the environment. You might even get money back for recycling your aluminum fence!
Lastly, when comparing aluminum versus wood fences, the material of aluminum is the clear winner when it comes to sustainability. Deforestation is estimated to cause about 10% of global warming pollution. Unlike wood fences, aluminum fences do not require the use of wood during manufacturing, construction, or installation.
According to The Aluminum Association, "the use of aluminum helps installing projects qualify for green building status under the Leadership in Energy and Environmental Design (LEED) standards." Even amongst industry experts and professionals, aluminum is recognized as an eco-friendly choice! There are many benefits to choosing aluminum fences, but now you can feel even better knowing that your purchase will have a minimal environmental impact.
Aluminum vs Wood Fence Style
The type of fencing you choose plays an important role when it comes to the look of your yard. That's why it is important to consider this factor when comparing aluminum versus wood fences.
Aluminum fences are more durable, allowing them to maintain their look over time. With many designs, and even colors to choose from, an aluminum fence will look great in your yard for years to come. In addition, aluminum fences often offer spatial posts, allowing you to maximize visibility around your home.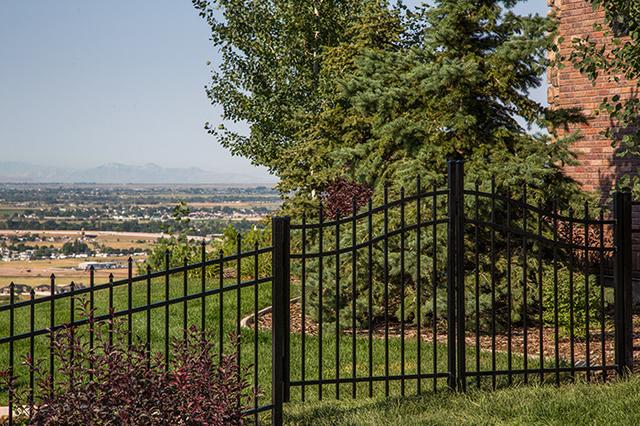 Aluminum Fences Require Less Maintenance
Aluminum fences don't need much cleaning or maintenance, let alone harmful chemicals. The only cleaning you'll need to do is occasionally rinsing with plain water. You might spray your fence off at the beginning of each spring season and that should be enough to keep your fence looking brand new all year. Unlike wood fences, aluminum fences won't need to be painted or stained.
In addition, wood fences require treatments and cleaning products that pump toxic fumes into the air. It's better to avoid working with these chemicals and cleaners because they release toxins that are harmful to humans and wildlife, not to mention the ozone layer. Aluminum fences don't require any sealants, sprays, or pesticides, allowing you to protect both your family and the environment.
Why Choose an Aluminum Fence?
When comparing wood vs. aluminum fences, aluminum prevails as the clear choice. The durability of aluminum fencing makes it a great long-term investment, saving you the hassle and cost of constant maintenance that often comes with a wood fence. Not only that, but aluminum fences provide an eco-friendlier choice due to their recyclability. Choosing an aluminum fence is a choice you can feel good about, and one that will look great in your yard too.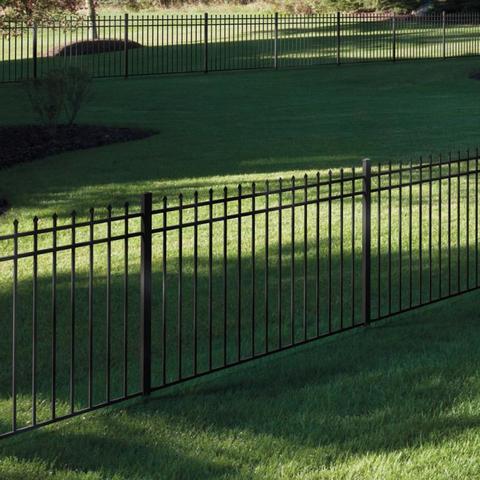 Visit Us to Shop for Aluminum Fences
Do you live in the New Haven, CT or Fairfield, CT area? Stop by the nearby Orange Fence showroom to see our many styles of aluminum fences for your home or business property. Our attentive staff will give you the information you need and help you to buy an environmentally friendly fence that will have the outdoors-loving you right back!
Get directions and contact our nearby location to plan your visit today!